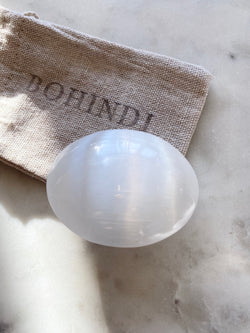 SELENITE HAPPY STONE | ILLUMINATE
Bring your awareness to the present moment with the energy of the Selenite Touchstone.
Designed to fit in the palm of your hand creating a powerful shift in your emotional state. A touchstone in each hand can have a calming effect as it gives you something to focus on while inviting positive energy.
Selenite is the ultimate crystal for cleansing and clearing energies and auras while instilling a deep peace and calm over the mind and body. It's fine vibration brings clarity to the mind, opening the crown and higher crown chakras. A powerful disperser and stabilizer for erratic emotions, selenite clears confusion and aids in seeing the deeper picture.

Details:
100% natural selenite palm stone / touch stone

carefully package with information card and bohindi signature linen keepsake bag