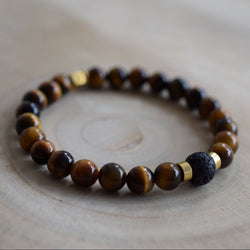 PROTECTION + STRENGTH + ENERGY
Zen for men. Activating protection, strength and energy. 
TIGER EYE | PROTECTION
Tiger Eye has a long history of being used for protection.  It is a great ally for the mind, providing balance and stability.  Tiger Eye encourages hope and confidence.
Solar Plexus Chakra
+
LAVA | ENERGY + STRENGTH
Formed from molten lava, the resilience Lava gained from its creation is manifested to the wearer.  It promotes courage, and provides guidance.
Root Chakra
Details:
Smooth 8mm tiger eye beads and 10mm lava bead
Strung on quality and durable stretch cord for easy on and off
Custom sizing available
Thoughtfully package in BOHINDI signature gift box with intention keepsake stone
Carefully made by hand in our Upper Arlington, Ohio studio