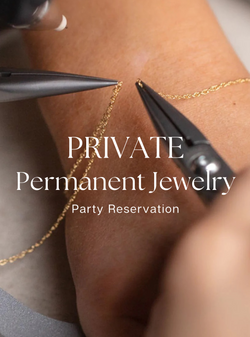 Private Party Reservation - Permanent Jewelry
A permanent jewelry welding experience.
Thank you for choosing BOHINDI to book your private party!
We require a minimum of 8 guests for private reservations after store hours.
How does it work?
Choose from our curated collection of 14k gold chains. Once you have chosen  your chain you will have the option to add an intention stone choosing from our collection of natural precious gemstones each with their own meaning. We will then measure the chosen chain to fit perfectly to your wrist. From there we will weld your chain shut with a simple zap.

What material is used?
quality 14k gold (available in yellow, white and rose gold)
How much does it cost?
The welding experience itself is free! You will only pay for the chain and charms themselves. We require a $50 deposit to book your appointment which will then be applied to chain cost. Chains range from $98-$254 / Charms range from $18-$54.
What about permanent anklets or necklaces?
After much testing, we have decided that anklets, and necklaces are not a great option for welding, and we only want to offer you that which will wear wonderfully! (We offer anklets, and necklaces options with clasps in store.)
What if I need to remove the bracelet? Can I have it reattached later?
Yes! If you need to remove the bracelet for any reason, we recommend carefully cutting it at the welded spot with scissors, and if you wish to have it welded back on at a later date we can certainly do that for a small welding fee. ($10+tax)
I would like to gift a permanent jewelry experience. Do you offer gift cards for this service?
We do! Click HERE to purchase a gift card.
I would like to host a private permanent jewelry party. How to I book a private party? 
We are happy to help! You are in the right place! 
Where are you located?
BOHINDI, 2134 Arlington Ave. Upper Arlington, Ohio
Please note:
*Anyone under 14 must be accompanied by an adult.
*We don't recommend this process if you have ever had an allergic reaction to 14k gold.
A nonrefundable deposit is required to secure appt. The deposit amount will be applied to your total price at check out.
*All sales are final
Have more questions? Please contact us by email at info@bohindi.com or via text 614.706.6252 | 
Location:
BOHINDI 2134 Arlington Ave. Upper Arlington, 43221