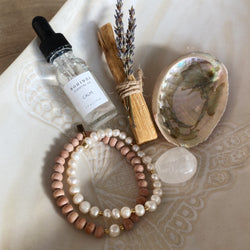 Find your calm today and everyday with our intentionally curated Calm Ritual Set No. 1 -Allow yourself space to breathe and reconnect with the calm within.
Includes:
.5 fl oz bottle of energy infused essential oil (Lavender & Jojoba Oil)

1 stick of Palo Santo wood & natural lavender twigs
1 abalone shell 
1 tumbled clear quartz
rosewood and fresh water pearl bracelet set (7"inch)
Details:
Bracelet Set
Each bracelet is hand strung on durable elastic crystal cord making it super easy to put on and take off. Each bracelet is sized at a standard 7" inches. Need a custom size?Please message us! The rosewood beads are also great for diffusing your essential oils. Simply apply a few drops of your Calm Essential oil to the wood beads and breathe. Reapply as needed.
Palo Santo
Clear any unwanted negative energy making room for new positive energy.
The BOHINDI Palo Santo is sustainably harvested from the dry forests of Ecuador and Peru.  To maintain the manifestation of the sacred medicinal and metaphysical properties carried by Palo Santo, collection is only done after the tree has died naturally and has lain undisturbed in its native environment for many years. 
Abalone
Abalone shell 2 1/4" x 3" approximate
Calm Essential Oil
Master the moment.⁠  Pause, breathe, and realign with the calming effect of  lavender essential oil gently hand blended with jojoba oil and energy infused amethyst crystals.
Intention: Calm
Affirmation: I am centered & quiet. I am calm.
Chakras: Third Eye + Crown
Oil Dropper 15 ml - .5 oz